The Same-Day Curtain Cleaning & Flameproofing Experts
When it comes to Curtain and Drapery Cleaning, you can Trust the Experts at On-Site Drapery Cleaners. We have been providing drapery cleaning and flame proofing since 1978.
Not At All Like Our Competitors
Warning - Your Drapes Are At Risk. Traditional Dry Cleaning and Steam Cleaning will cause shrinkage and can permanently damage your drapes.Our unique non-immersion process delivers superior results when compared to competitive cleaning processes. Our proprietary process uses tiny particles carried on a cushion of air to extract dirt and contaminants from your drapes.
Exclusive Process, Guaranteed Results
Because of our unique process, developed exclusively to clean drapes, we can safely clean 100% of the fabric combinations used today, including delicate fabrics such as silks, wools, cotton, even blackout lined drapes and decorative elements such as beading, tassels, and fringe. Improve Indoor Air Quality with our Green Process. Independent Laboratory Results prove our cleaning process is the gentlest on fabrics and improves indoor air quality.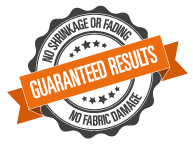 We are the ONLY drapery cleaning company who will Guarantee:
No Shrinkage
No Color Fade
No Fabric Distortion
Your Satisfaction Guaranteed!
Service Advantages
Same Day Service: The competition thinks it's OK for you to wait 10 days for your drapes to be cleaned. We don't think so! With either our Mobile Dry Cleaning Units, or At Our Facility, we can do it all, often in one day.
On Site Professional Removal and Re-hanging
Guaranteed No Shrinkage: Our non-immersion process is the only process which does not shrink fabric. We guarantee it.
Flame Retardant: On Site is the only curtain cleaning process which will not remove the existing flame retardant properties of your drapes. Also, we can re-apply flame retardant and provide you with a Certificate of Flame Retardant Application & Testing for your next fire inspection. Watch Our Video to learn more.
Our Proprietary Process removes harmful dust and allergens without damaging fabric.
Regular Cleaning Significantly Preserves and Extends the Life of Your Drapes