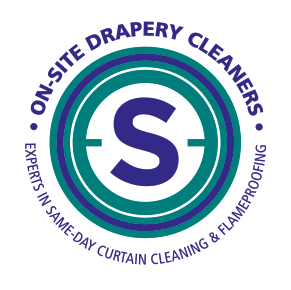 SAME DAY SERVICE
NO DAMAGE TO BLACKOUT LINING
NO SHRINKAGE
NO FABRIC DAMAGE
NO FADING
FIRE CODE CERTIFICATION
ENVIRONMENTALLY FRIENDLY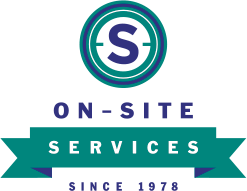 Don't Miss Your Curtain Call
1 800 465 2082
STAGE CURTAIN CLEANING,
RESTORATION & REPAIR
CURTAIN CLEANING & RESTORATION
FLAME RETARDANT APPLICATION
NFPA TESTING & RE-CERTIFICATION FOR FIRE CODE COMPLIANCE
REPAIRS TO DRAPERY & TRACKS
NEW CURTAINS & TRACKS
ADVANTAGES:
SAME DAY: No Need to Take Your Stage Out of Service: The only company who can take down, deep clean, re-hang and flameproof your curtains Same Day.
LARGE CAPACITY: This is not a guy with a vacuum. Our Extra-Large Sized Drum means we can clean even large stage drapery panels and enables us to clean a significant amount of drapery in a single day.
PROPRIETARY: Our Non-Immersion cleaning machines were developed and purpose-built to clean stage curtains. Since On-Site is the only company who does not use liquids to clean drapes, only On-Site will Guarantee No Shrinkage, No Fading, and No Fabric Damage.
SAFEST: Our Non-Immersion Cleaning system is the only way to clean textiles without removing the existing Flame Retardant.
TRUSTED: On-Site has have the privilege of working with many facilities including major universities, performing arts centers, museums, military institutions, schools, television and film productions.
WE MAKE THE FLAMMABLE INFLAMMABLE: Including Stage & Window Drapery, Blinds, Furniture, Upholstery, Paintings, Wood, Artificial Plants, Costumes, Sets, Store Fixtures, Wall Coverings, Quilts, Banners and Flags.
FULL SERVICE: Our Self-Sufficient Cleaning Units come right to your facility for same-day service or we can take down, service at our facility and return to re-hang them.
SELF SERVICE: We also offer a self-serve option for customers who prefer to simply send their drapes to us, we'll clean and re-certify them and send them back promptly.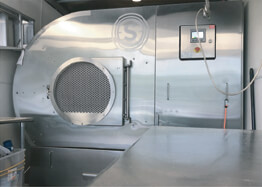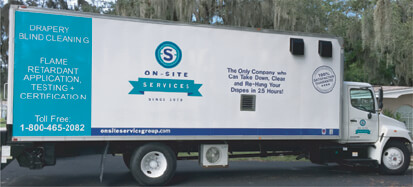 NFPA Testing & Re-Certification for Fire Code Compliance
We offer testing to the following standards:
NFPA 705, NFPA 701, NFPA 260, CAN/ULC S-109